Dr. Christine Chow, PhD
BSc (LSE), MA (SOAS), PhD (University of Melbourne)
Email: This email address is being protected from spambots. You need JavaScript enabled to view it.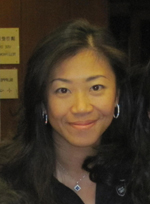 Biography
Dr. Christine Chow is the Founder of Homage Consulting Ltd.  She is:
An experienced investment professional with 11 years of investment experience in the areas of institutional fund management, investment consulting, asset advisory and hedge fund;
A global citizen - having lived and worked in six territories - China, Czech Republic, Hong Kong, India, Philippines, United Arab Emirates and the UK;
A published author who speaks regularly at academic and industry conferences on responsible investment and shareholder engagement as a subject specialist; and
A visiting scholar at the University of St Andrews, United Kingdom.
Her PhD thesis, "Cross-country comparison of shareholder engagement for responsible investment" was short listed for the United Nations PRI/MISTRA international award in 2011.
Christine worked for Schroders in the institutional team covering pension funds management and investment product development. She was subsequently recruited to join the China team, focused on establishing the Group's strategic partnerships and Sino joint venture fund management company in China.
She worked at Hewitt Bacon and Woodrow (now Aon Hewitt) in the UK as a Consultant, specialised in corporate governance, responsible investment research, emerging market debt and liability driven investments.
She also worked as a Director of VisionGain Capital, a China hedge fund, and an Investment Advisor to the American School of Bombay (ASB), India.
Selected Publications
Chow (2011) Establishing a Corporate Sustainability Monitoring Tool using the Shareholder Engagement Commitment Indicator Journal of Sustainable Finance and Investment Volume 1 Issue 3-4: 195-208.
Chow (2013) Responsible Investments in Hong Kong in The Handbook of Responsible Investment Routledge: London (forthcoming).
Chow (2013) "Mummy, What is Money? Financial Literacy and Responsibility in a Digitised World in Business Brain Surfing Bloomsbury: UK (coordinated by The University of St Andrews; forthcoming).