Background
The Centre for Corporate Governance is an internationally recognised and inter-disciplinary research centre based at the University of Technology Sydney (UTS). The main focus of the Centre's researchis international corporate governance. The Centre has formed relationships with other research centres and academic researchers nationally and internationally with linkages in Europe and Asia and a strong research track record in this field of study.
The website of the Centre is https://www.uts.edu.au/staff/thomas.clarke
The Centre can also be followed on its Twitter page http://www.twitter.com/corpgovresearch
Recent Centre Research
Survey of Board Evaluation
The UTS Centre is presently engaged in an international survey of board evaluation commissioned by the Australian Council of Superannuation Investors (ACSI). Board evaluation is becoming universal in large listed corporations in the US, Europe and Australia. However though the processes of board evaluation are becoming more rigorous, the outcomes of board evaluation are not normally disclosed to shareholders. This survey is exploring how the processes of board evaluation may contribute to board performance, and how these outcomes may be reported to investors.
Women on Boards
The UTS Centre on 2/3 March held a colloquium with international researchers from the UK, Norway, United States, New Zealand and Australia examining the progress of the international effort to enhance diversity on boards of directors of listed companies. This was in the context of an Australian government survey on gender in boards of directors that revealed that women were poorly represented on boards, and that the situation was deteriorating rather than getting better. The Australian Securities Exchange (ASX) decided to make it mandatory that all listed companies review and improve the level of diversity existing on their boards. At the colloquium the leading women directors in Australia were interviewed regarding new ways to facilitate the mentoring and development of women directors.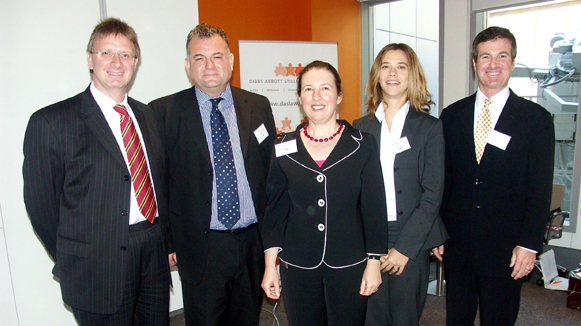 (Photograph of Centre members included in this mailing. From left to right Professor Michael Adams, Professor Thomas Clarke (Director of UTS Centre), Lis Boyce (member of advisory board, partner of DibbsBarker law firm), Alice Klettner, Tim Sheehy (member of advisory board, CEO of Company Secretaries Australia).
Recent Developments in Australian Corporate Governance
GFC
Australia survived the Global Financial Crisis with its banking reputation mostly intact and without having major banking collapses occurring. However, it did not remain unscathed with several corporations in the fringe financial sector going bankrupt as conditions worsened in the debt markets, the largest of which was Babcock and Brown. Nevertheless, Australian banks joined a handful of peers in the OECD countries of Canada, Netherlands and Spain in weathering the GFC. One reason for the strong regulatory framework in Australia, was the reforms implemented by the country's prudential overseer, the Australian Prudential Regulatory Authority (APRA) after the collapse of Australia's largest insurer HIH in 2001.
Better conditions in the financial markets in 2010 saw the end of the Federal Government's wholesale guarantee which underwrote the Australian financial system by providing government funding to banks during the tight credit conditions in 2008-2009. Details of the scheme can be found in the link below:
http://www.guaranteescheme.gov.au/
RBA
The Australian central bank, the Reserve Bank of Australia (RBA), celebrated its 50thth anniversary symposium with papers from the European Central Bank's (ECB) Jean-Claude Trichet and Bank for International Settlements' (BIS) Jaime Caruana. anniversary with other central bank representatives from the G20 and the Asia-Pacific region. There was a general respect for the resilience of the Australian financial and regulatory system during the crisis. Below is the link to the RBA's 50
http://www.rba.gov.au/publications/confs/2010/index.html
China
Another factor which helped Australia's position in the last few years is its trade relationship with China. China's growth has had a major effect for resource-rich countries. Mining has helped steady the country's growth as mountains of coal and iron ore are mined and shipped from Australia to China.
Dependency on future economic growth of China is not without its pitfalls. The relatively opaque and poor disclosure requirements (compared to Australian corporate governance) by Chinese state-owned enterprises is a matter of concern. Given that most Chinese companies have substantial state ownership and board members are in general Party member officials, recent overtures by these entities towards Australian companies has focused on the potential clash of values and how corporate governance can be practised if an Australian listed company has Chinese government directors. Conflicts may arise on a board where different representatives have varying degrees of stakeholder responsibilities.
The spurning of Chinese company Brightfood by Australian company CSR, over the potential acquisition of the sugar arm of CSR by Brightfood, is one indicator of Chinese outward investment and interest in Australia. For a comparison of company disclosure requirements, below is Bright Food Group's Management Team webpage which consists of two photos of the Chairman and the CEO with no additional text on their biographies.
http://www.brightfood.com.cn/en/about/team.asp
Whereas below is the screenshot of listed company CSR's board and management team with biographies as per ASX disclosure requirements:
http://www.csr.com.au/facts/Pages/defaulta599.aspx
Chinese company standards of information disclosure on the competencies of their board, management and relationships are still found to be wanting.
Chinese interest in Australian companies has also underlined how Australia's Foreign Investment Review Board (FIRB) requires more institutional support to deal with such transactions. Below is the link to the FIRB's website:
Lastly, the trial and sentencing of Anglo-Australian mining's Rio Tinto's executive Stern Hu and colleagues has shone the spotlight on China's developing judicial system, issues of corruption and transparency, and the general conduct of business relationships in the country.