Broken Circles
Stories about "black (and white) swan" events and how to sustainably keep responsibility and ethical principles running


What when a risk is conceivable (like an earthquake or a human mistake) but not imaginable or considered to be too low to take it seriously in account at a certain moment?

Seminar Video <click here> -coming soon
---
VIPsight - 1st Edition 2023 <click here>
VIPsight - News

March 2023
BERKSHIRE HATHAWAY INC.
To the Shareholders of Berkshire Hathaway Inc.: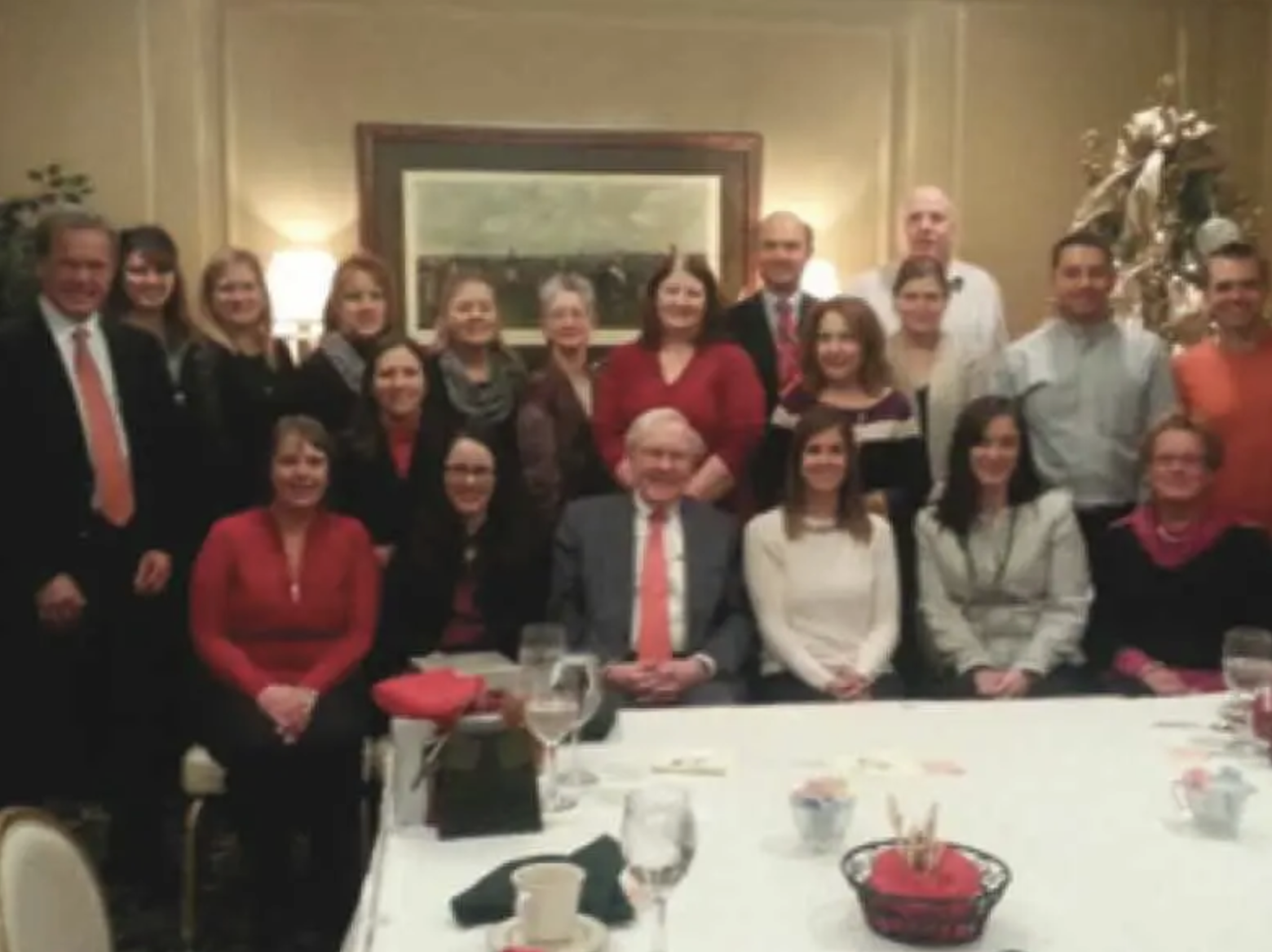 Charlie Munger, my long-time partner, and I have the job of managing the savings of a great number of individuals. We are grateful for their enduring trust, a relationship that often spans much of their adult lifetime. It is those dedicated savers that are forefront in my mind as I write this letter.
A common belief is that people choose to save when young, expecting thereby to maintain their living standards after retirement. Any assets that remain at death, this theory says, will usually be left to their families or, possibly, to friends and philanthropy.
Our experience has differed. We believe Berkshire's individual holders largely to be of the once-a-saver, always-a-saver variety. Though these people live well, they eventually dispense most of their funds to philanthropic organizations. These, in turn, redistribute the funds by expenditures intended to improve the lives of a great many people who are unrelated to the original benefactor. Sometimes, the results have been spectacular.
The disposition of money unmasks humans. Charlie and I watch with pleasure the vast flow of Berkshire-generated funds to public needs and, alongside, the infrequency with which our shareholders opt for look-at-me assets and dynasty-building.
BERKSHIRE HATHAWAY INC. - 2022 ANNUAL REPORT (PDF) <click here>

The Power of Capitalism
Dear CEO,
Each year I make it a priority to write to you on behalf of BlackRock's clients, who are shareholders in your company. The majority of our clients are investing to finance retirement. Their time horizons can span decades.
The financial security we seek to help our clients achieve is not created overnight. It is a long-term endeavor, and we take a long-term approach. That is why, for the past decade, I have written to you, as CEOs and Chairs of the companies our clients are invested in. I write these letters as a fiduciary for our clients who entrust us to manage their assets – to highlight the themes that I believe are vital to driving durable long-term returns and to helping them reach their goals.
When my partners and I founded BlackRock as a startup 34 years ago, I had no experience running a company. Over the past three decades, I've had the opportunity to talk with countless CEOs and to learn what distinguishes truly great companies. Time and again, what they all share is that they have a clear sense of purpose; consistent values; and, crucially, they recognize the importance of engaging with and delivering for their key stakeholders. This is the foundation of stakeholder capitalism.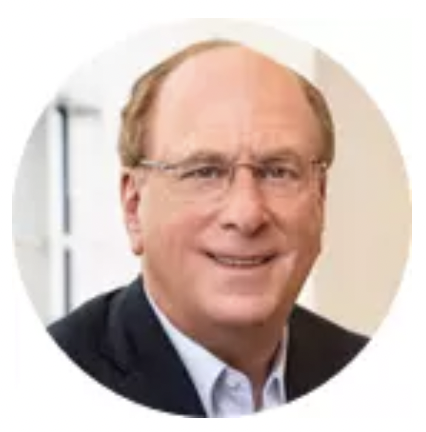 Chairman and Chief Executive Officer
more - https://www.blackrock.com/corporate/investor-relations/larry-fink-ceo-letter
January 2023
Deutsche Börse AG: Testing the Limits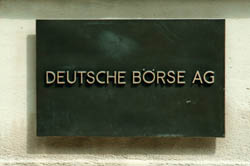 Good relationships with the supervisory authorities are particularly important for financial institutions. After all, financial institutions cannot operate without official approval. What is more, good standing with the regulators is important for the customers´ trust in the solidity of their business? 
more - VIPsight - 1st Edition 2023 <click here>
ADLER Group S.A.: Will this Bird ever fly again?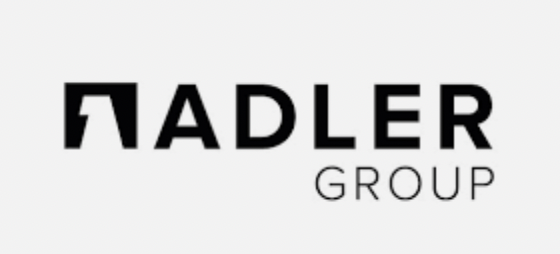 If you put it euphemistically, ADLER Group faces special challenges. Already the known corporate governance problems would be enough to overthrow the average market participant. However, the short-term securing of the company´s financing is much more important. Here, the bondholders are in the foreground. 
more - VIPsight - 1st Edition 2023 <click here>
BAYER AG: Advances in Damage Control open up new Perspectives for Shareholders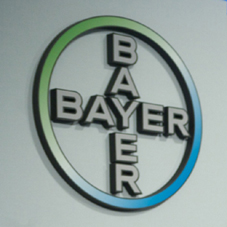 The takeover of Monsanto by BAYER can confidently be classified as one of the biggest money burns in the German capital market. With this acquisition, BAYER bought reputation and legal risks, a business model with an operationally weakening business, and limited strategic perspectives in the agricultural business.
more - VIPsight - 1st Edition 2023 <click here>
December 2022
Uniper SE: Time to say Goodbye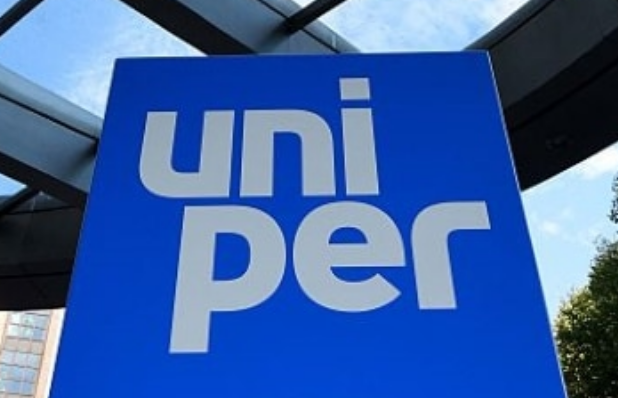 If there was one company in Germany that benefited massively from political windfall profits, then it must be Uniper. But political windfall profits also come at a price. This also includes the risk of a change in the political situation that the company cannot control.
Putin´s hope of buying consent to wipe Ukraine off the map with cheap gas was dashed, as was Uniper´s business model. As a consequence, the company and its shareholders were suffering losses that could no longer be sustained. This resulted in a call for help to the state which could not resist this request given the company´s economic importance.
more - VIPsight - 1st Edition 2023 <click here>
Rheinmetall AG: Supplied with 100% unreliability Guarantee

The Russian attack on Ukraine caused a remarkable change of mood in Germany in favor of armaments companies. Rheinmetall also benefited from this. No wonder, that the share price has soared since. As a result, many shareholders sat back and relaxed in the expectation of a pleasant Christmas.
more - VIPsight - 1st Edition 2023 <click here>
Linde plc: Are European Standards too high for Linde?

Linde plc proposed an intercompany reorganization that would result in the delisting of Linde plc shares from the Frankfurt Stock Exchange. In this context, a new holding company would be created through an Irish scheme of arrangement and domestic Irish merger. Shareholders would receive one share of the new holding company to be listed on the New York Stock Exchange.
The message addresses the background to this decision only indirectly. The management and board determined that shareholders of Linde plc have become negatively impacted by various factors associated with the stock being dual listed in the United States and Germany. The key clou can be found here:
"While the dual listing structure has served us well since interception, it has constrained our stock valuation through European restrictions in addition to incremental complexity."
more - VIPsight - 1st Edition 2023 <click here>
Fresenius Medical Care AG & Co. KGaA: Wash my Fur, but don´t wet me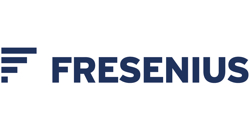 In May, it all sounded like a beautiful dream. The Supervisory Board of Fresenius Medical Care unanimously appointed Dr. Carla Kriwet to succeed Rice Powell as the new CEO of the company. Mr. Powell left the company after 25 years, including a full decade as CEO.
more - VIPsight - 1st Edition 2023 <click here>
TUI AG: Making a clean Sweep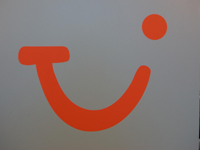 For a while it looked as if TUI would also perish in the COVID maelstrom. However, these voices underestimated the industriousness of TUI and the depth of the government´s coffers. Meanwhile the worst is over and it is time to come to terms with the past. For TUI this means above all the repatriation of the aid money.
Mid-December, TUI announced that it has concluded an agreement with the German Economic Stabilization Fund ("WSF") on the repayment of stabilization measures. This agreement regulates the intended termination of the stabilization measures by means of a right of the company to
- Repayment of the contribution made by the WSF as a silent partner in January 2021 (€420 million), and
- Repurchase the warrant-linked bond 2020/2026 issued by the company to WSF (€57.7 million as well as 58,674,899 option rights), until December 31st, 2023, at a repayment price of €730,113,240, plus interest accruing until repayment under the stabilization measures.
more - VIPsight - 1st Edition 2023 <click here>
Leoni AG: A reliable Bad Luck Raven

There are some companies that seem to attract misfortune. Unfortunately, Leoni also belongs to this group. The qualification gives a sympathy bonus. But that doesn´t count on the capital market. But at least we can count the company among the regular guests in this category.
In mid-December it was time for an update again. This time, Leoni informed that all closing conditions for the closing of the sale and purchase agreement entered on May 23rd, 2022 with STARK Corporation on the sale of the Business Group Automotive Cable Solutions have been timely fulfilled and that the closing was scheduled to occur shortly. However, STARK demanded on December 13th significant amendments to the purchase agreement. Despite willingness to compromise on the side of Leoni, STARK refuses to agree and will not perform the closing according to Leoni. From Leoni`s perspective, no grounds for non-performance of the closing exist, meaning that STARK is in breach of the contract.
more - VIPsight - 1st Edition 2023 <click here>
Konsolidierung der Proxy-Agenturen quasi abgeschlossen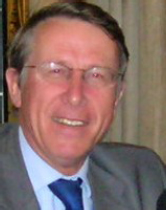 Fast 3 Jahrzehnte war Governance sein Leben, nun ist Proxinvest an Glass Lewis verkauft. Mein alter Freund Pierre-Henri Leroy baute seine Proxy-Maschine in Paris seit 1995 und hat, wenn die Governance nicht stimmte, keinen Gegner gescheut. Viel haben wir zusammen gemacht, auch 2012 die Nicht-Entlastung bei der Deutsche Bank – wo sein Partner DSW (Deutsche Schutzvereinigung für Wertpapierbesitz) durch Klaus Nieding öffentlich abredewidrig zu votieren empfahl und vermutlich weisungswidrig auch so abgestimmt hatte.
Pierre baute an Europa – während der Stur. Und Drangzeit von ICGN (International Corporate Network) in maximaler Ausbreitung kurze Zeit bis Kanada und Australien – ab 2010 zusammen mit Familie Biedermann bei Ethos und dem Netzwerk European Corporate Governance Services. In der interkontinentalen Zeit auch Expert Corporate Governance Services.
Vergangenes Jahr kündigte es sich an, der CEO von Proxinvest Loic Dessaint wurde zum Chief Governance Officer. In Spanien schluckte Glass Lewis die IT-lastige Alembeeks. Gestern am 05. Dezember2022 dann die Meldung (nur in französisch) : Proxinvest goes Glass Lewis.
Die Partner in Madrid (Juan Prieto, Corporance), in Rom (frontis, Sergio Carbonara), die DSW in Düsseldorf und ein paar wechselnde in weiteren europäischen Kulturen sind nun für die amerikanische Proxy Agentur nicht mehr von Interesse. Die mit ergänzendem Geschäftsmodell wie Ethos und DSW werden das noch am ehesten überdauern. Man könnte auch sagen, Glass Lewis aus San Franzisko hat die Corona-Geschwächten zur rechten Zeit eingesammelt, das ISS (Institutional Shareholder Service) aus Rockville in Maryland war sich dafür zu fein oder zu behäbig. ... so galt es bis gestern, jetzt ist ISS die grosse Unabhängige zum Thema virtuelle Hauptversammlung eingeknickt – entweder wegen ihrer Emittenten-Umsätzen oder mit dem pflegerischen Druck der neuen Eigentümer : die Frankfurt'er Börse.
 
August 2022
Uniper SE: Like a wounded Dinosaur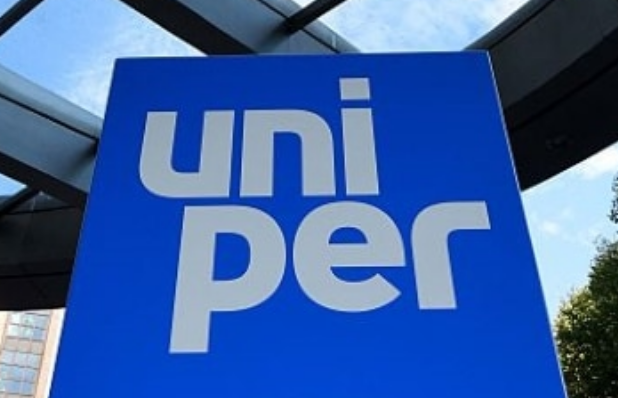 Maybe everything would have turned out differently if Putin´s Blitzkrieg Strategy had been successful. The resistance of the people in Kiew not only saved them from this fate but also emphasized the particular risk in dealings with totalitarian systems.
more - VIPsight - 2nd Edition 2022 <click here>
Buhlmann's Corner
Stories - that life wrote.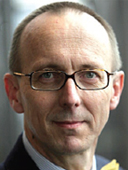 When Ruhrgas was still ruled by Burckhard Bergmann and headquartered in Essen, the energy world was still in order - the business model was cutthroat then as now, though it was in line with the political credo of those years. Blessed by a ministerial permit and showered with purchase price/money. Ruhrgas was the pride of a whole nation, ended up with the people's share VEBA in E.on and was integrated into UNIPER at its 2nd rebirth to make it prettier.

more - VIPsight - 2nd Edition 2022 <click here>
Salzgitter AG: Do good things, and talk about it

Salzgitter`s Executive and Supervisory Boards approved to make funds of € 723 Mio. Available for the first expansion stage of the SALCOS® project. This project aims to fully convert the integrated steelworks in Salzgitter in three stages to low-CO2 crude steel production by 2033. Up to around 95% of the CO2 emissions amounting to approximately 8 million tons, a year will be gradually reduced as a result.
more - VIPsight - 2nd Edition 2022 <click here>
Volkswagen AG: Wolfsburg Inbreeding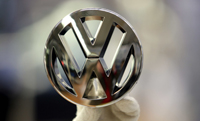 For most of his tenure, Dr. Herbert Diess`s leadership of Volkswagen was controversial. In a period of upheaval for a company, that doesnßt have to be bad. But when something like this escalates into public discussion, a board chairman quickly becomes a lame duck.
more - VIPsight - 2nd Edition 2022 <click here>
Siemens AG: When kids learn to walk….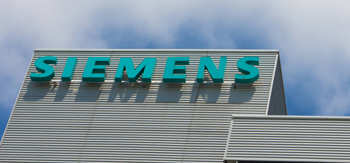 Most children can hardly walk when they start to go their way. This is exactly the purpose of a spin-off on the capital market. Something like this can become painful, however, if the separation is not complete. Siemens is well acquainted with this problem.
more - VIPsight - 2nd Edition 2022 <click here>
Dear CEO,
Each year I make it a priority to write to you on behalf of BlackRock's clients, who are shareholders in your company. The majority of our clients are investing to finance retirement. Their time horizons can span decades.
The financial security we seek to help our clients achieve is not created overnight. It is a long-term endeavor, and we take a long-term approach. That is why ... - ... I know this firsthand. In this polarized world, CEOs will invariably have one set of stakeholders demanding that we do one thing, while another set of stakeholders demand that we do just the opposite.
That is why it is more important than ever that your company and its management be guided by its purpose. If you stay true to your company's purpose and focus on the long term, while adapting to this new world around us, you will deliver durable returns for shareholders and help realize the power of capitalism for all.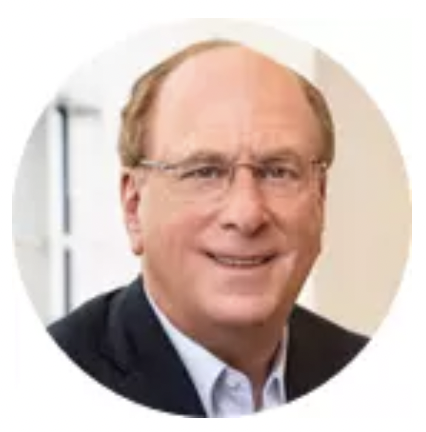 Chairman and Chief Executive Officer
March 2021
WHO WAS ABLE TO LEND NON-ISSUED/ NOT EXISTING SHADOW SHARES ?
Custodian settlement is ... marvellous - may i vote my lended shares?
GameStop Corp.  Short Interstest as % of Free Float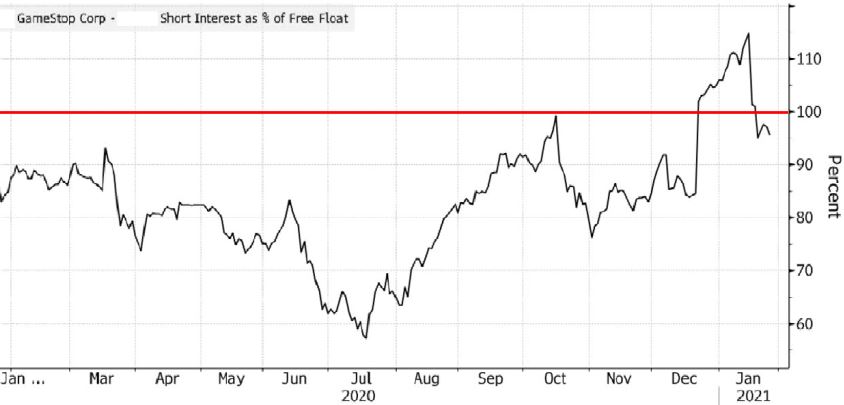 Volkswagen chart <ordinary> October 2008
VIPsight USA - The GameStop Short Squeeze – Potential Regulatory and Litigation Fall Out and Considerations
Virtuelle Hauptversammlungen (2020): Ein sicherer Ersatz für Präsenzveranstaltungen?
How to Break Virtual Shareholder Meetings
Prof. Dr.-Ing. Andreas Mayer, Hochschule Heilbronn
<click here> complete version (PDF) deutsch

<click here> complete version (PDF) english - page 98 (114) to 112 (128)

17. Deutscher IT-Sicherheitskongress des BSI
https://www.bsi.bund.de/EN/Home/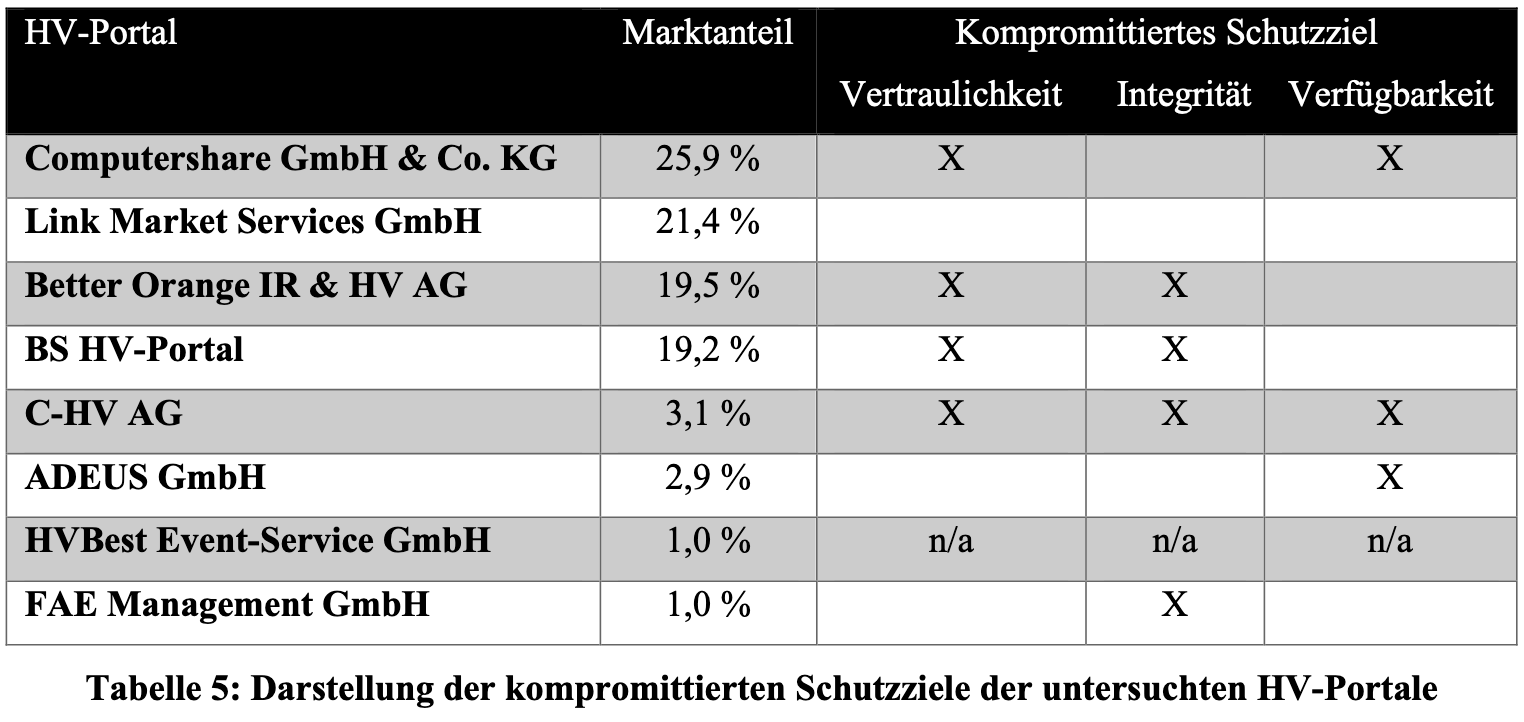 December 2019
Proxinvest publishes its twentieth third report: "Annual General Meetings and shareholder activism – 2019 season"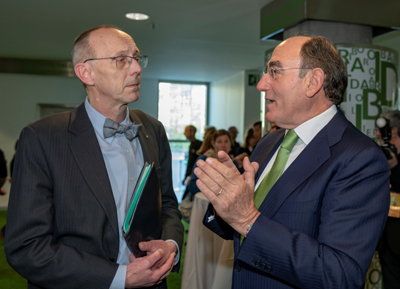 (Hans-Martin Buhlmann and Jose Ignacio Sanchez Galan after VIP remarks in 2019 Iberdrola AGM)
Restrained General meetings
While the "Place de Paris" (i.e stakeholders on the French listed market) wonders about the potential framework regarding shareholder activism, Proxinvest's report on General Meetings displays that in fact General Meetings of French companies remain very controlled. In point of fact, 57.6% of voting rights exercised in the 315 General Meetings analyzed by Proxinvest were in the hands of reference shareholders (36% in the CAC 40), explaining why only 0.64% of resolutions were not adopted.