Page 1 of 9
VIPsight - 1st Edition 2016
COMPANIES
Thyssenkrupp: Reorganization in the European steel industry?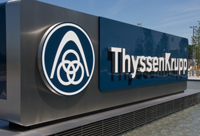 According to the industrial giant Thyssenkrupp, the European steel industry could soon be up for an overhaul. Company chief Heinrich Hiesinger told "Welt am Sonntag" in an interview "We expect that it will eventually come to a consolidation".

"If that opportunity arises, we will be part of it"

The steel industry is regularly beset by risks that raise fears about their capacity to survive. Overcapacities and regulation are particularly challenging. When asked about the role of the private steel sector Hiesinger said: "If there is an opportunity to consolidate, we will be involved in it." However, the manager does not expect ordinary acquisitions, but rather mergers.
In October Thyssenkrupp announced a new savings programme for its steel division of some 100 million Euros a year.
Nordex awarded 14 turbine project contracts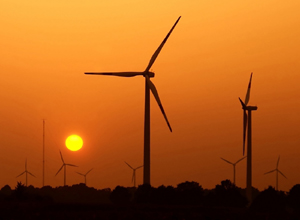 Germany's leading project developer wpd has awarded Nordex contracts for the supply of 14 wind turbines with a total nominal output of 33.6MW. The turbines ordered are low-wind machines that are due to be linked to the grid in the third quarter of 2016.

The projects are located at sites in Hessen, Thuringia and Saxony-Anhalt. Ten of the turbines will be installed at a tower height of 141 metres, and the remaining four at a tower height of 120 metres.

Furthermore, wpd has signed 15-year Premium service agreements for the turbines. These new orders confirm the continuation of the long-standing successful relationship between the companies in Germany


Ströeris heavily investing


The Cologne-based advertising specialist Ströer is expanding to Poland and taking over the activities of the Goldbach Group. The price of the transaction, due to be paid in the first quarter of 2016, has not been disclosed.
According to Ströer COO Christian Schmalzl, the acquisition of Goldbach's  Polish online business is a good move. "This acquisition is another important step to strengthen our cross-media market position in Poland," said the manager. The Küsnacht-based company is not unknown there.
Goldbach is reported to feature on the most extensive ad network in Poland after Google, with over 20 million users and more than 800 websites, 450 of which are in exclusive marketing.
Carl Zeiss Meditec AG turnover increases to 1.04 billion Euros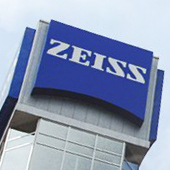 Carl Zeiss Meditec AG can once more look back on a positive financial year. Boosted by favourable currency swings, the supplier of medical technology overshot the one billion mark in financial year 2014/15, with sales up by 14 percent to 1.04 billion Euros. After currency adjustments, growth was up approximately 8 percent over the previous year. Earnings before interest and tax rose by 8 percent to 130.6 million Euros from 120.7 million Euros in the previous year. EBIT of 12.6 percent was down from last year's 13.3 percent adversely affected by additional targeted investments in research and development. Adjusting for these additional investments and considering the positive effect on the operating result of currency swings, EBIT  would have increased by 13.8 percent in line with the previous year (13.7 percent). The company's growth was fed – albeit with different dynamics - from all three business units and regions of the world.

"A strong fourth quarter and a tailwind from the exchange rates of major currencies supported operating earnings," said Dr. Ludwin Monz, CEO of Carl Zeiss Meditec AG.
For the first time, Frankfurt Airport tops the 60 million passenger a year mark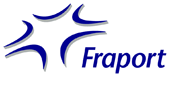 For the first time in its history, Frankfurt Airport handled more than the record number of 60 million passengers in a year. The  lucky 60 millionth was 13 year-old Antonia Hein from Fulda. Together with her parents and siblings she got to terminal 1 at 2.30 pm, to check in for Condor flight DE2290 to Cape town where she and the family planned to spend the festive season with their oldest sister. The occasion was marked by a public ceremony in the terminal  building during which Anke Giesen, Fraport executive board member, presented the family with a travel voucher worth 1000 Euros, which they can redeem against their next booking with the Fraport AG travel agency. Then, Dr. Jens Boyd, director long haul & revenue management of Condor, presented the whole family  with a flight voucher that can be used for travelling to all Condor destinations in Europe.

Anke Giesen expressed her satisfaction at having achieved a new record high, and remarked "Just 11 years ago we reached the 50 million mark – now with 60 million passengers we have made a quantum leap".

2015 was the also year when the airport logged the busiest passenger day in its history. Not only was a new record reached on August 2 when 217,500  members of the travelling public transited the airport, but the number of 200,000 passengers was exceeded on no fewer than 63 days in 2015, against 28 times in 2014 and not once in 2013.  

Frankfurt Airport's 2015/16 winter schedule features 88 airlines flying to 247 destinations, of which 130 intercontinental, in 100 countries more than half of which are extra European. This confirms the airport's vocation as a major international aviation hub, ranking, in Europe, first for cargo and third for passengers.
Deutsche Bank sells share in China for billions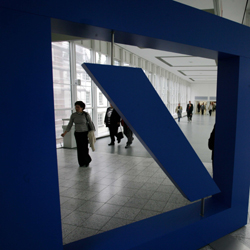 The new co-CEO of Deutsche Bank, John Cryan is moving ahead with the bank restructuring programme.
Four days after Christmas he announced the divestment of the quota in China's Hua Xia Bank for 3.2 to 3.7 billion Euros. The coffers of Germany's biggest bank swell with the revenue that will strengthen its capital buffer and Cryan moves ahead with the mopping up. It is also highly likely, according to "Strategy 2020" that the bank will also sell off its interest in Postbank, with the loss of thousands of jobs and focus on fewer propositions.
"We first became involved with the Hua Xia Bank in 2006 and China remains a key growth market for us ", Cryan said in a statement. While Deutsche Bank has been "pleased" with Huaxia Bank's development, "now is the right time for us to sell this investment". Deutsche Bank's 20% Holding of the Hua Xia Bank is being bought by the Chinese insurance corporation PICC. Cryan expressed his hopes that the new holding would provide steady income and also cooperation opportunities.
Vonovia set to build new headquarters in 2016 – construction commences end 2016
Real estate concern Vonovia SE is staying in Bochum and is planning to build a new office block. The building will rise in a 30,000 square metre property purchased in the district of Wiemelshausen in Bochum.
"This is a milestone for the industrial region of Bochum. I am delighted that the DAX company is staying in Bochum to expand here", said mayor Thomas Eiskirch. I am very pleased with the ease with which we –together with the city of Bochum- agreed on terms. For that I wish to thank the mayor of Bochum, Mr Eiskirch. When a company prospers in a city, it should stay there to grow. We feel confident that our constructive and positive collaboration with the city of Bochum and the Economic Development Office will continue to flourish" said Rolf Buch, CEO of Vonovia SE.

Record year for Arianespace
A record year has assured European missile operator Arianespace with a healthy order book for rocket launches, reported CEO Stéphane Israël in Paris. Bookings now stand at a record 5.3 billion Euros, adequate to face the fiercest competition. But Arianespace cannot afford to rest on its laurels and, insists Israël, must lower costs in order to keep competitors like the US company SpaceX at bay.

Last year Arianespace successfully performed a record twelve launches from the European spaceport in Kourou, French Guiana (South America), placing 21 satellites into orbit. With a forecast revenue in excess of 1.4 billion Euros, Israël expects to break even. This year, Arianespace will perform eleven launches with its Ariane 5, Soyuz and Vega vehicles.

Israël has high hopes for the new generation of European missiles, and last year the European Space Agency awarded the Ariane 6 multi-billion dollar development contract to Airbus Safran Launchers (ASL). The rocket manufacturer aims to acquire a majority holding in Arianespace, a process which, according to Israël is "going very well". The acquisition is part of the European missile industry reorganization programme to be able to compete successfully against companies such as SpaceX.
Save taxes using M2M


In a bold move last October, Sixt Leasing AG and its subsidiary Sixt Mobility Consulting AG launched an especially hi-tech M2M application, the fully automatic Sixt Logbook. Its technology is based on an innovative plug-and-play solution from Telefónica and Geotab. Telefónica Germany acts as a general contractor providing the hardware, service and the necessary wireless connection from a single source.

Sixt Leasing AG is one of the leading manufacturers and leasing providers in Germany that stand independent of banks with subsidiaries in Austria, Switzerland, France and the Netherlands. Through a franchise network the company also reaches customers in more than 40 countries. With the new Sixt Logbook both companies reap the benefits of digitization and makes intra-business communication by M2M communications easier for its customers
Surteco: Back to SDax
In its drive for re-admission to an SDax listing, surface technology specialist Surteco launched a major free float. The announcement was made by CEO Herbert Müller in an interview published in Börsen Zeitung. According to Müller, the company's principal aim is to bolster its plastic materials business and is on the lookout for suitable companies to purchase. One way of funding such a transaction could be by resorting to the capital market, says Müller and one of its side effects would be a return to an SDax listing. At the present time, the founding shareholders hold a 54.6 percent stake in the company and Allianz, Axxion, Lazard Freres and Delta Lloyd hold packets of between 3 and 5 percent. Analysts reckon that Surteco's turnover for 2015 will be 637 million Euros with a net profit of 23 million Euros.
Ströer blast off towards the new year
Digital, the outdoor advertising sales organization expects to post a double-figure growth percentage for the first quarter of 2016. The exceptional success of 2015 should continue to assure growth well into 2016. The company has announced that the EBITDA that was raised to 200 million Euros last November has been exceeded. The target EBITDA for 2016 has been set at 270-280 million Euros.
Lotto 24: higher turnover lower loss
On the basis of figures available today, the 2015 turnover of Lotto 24 AG is reported to have gone up from 7.7 million Euros to 13.5 million. The company has confirmed the increase in registered customers from 0.521 million to 0.883 million with a consequent fall in cost for each new customer acquired. The upshot is that Lotto24's losses have diminished from 14. 2 million Euros 13.4 million. For 2016, the company has set its sights on an increase of 26-30 percent in the volume of transactions. In a communiqué, the company announced that the forecast EBIT should lower costs for part of the year compared to last year.