Page 3 of 13
ACTIONS CORNER
Deutsche Postbank is to pay a €120,000 administrative fine for misusing account data for soliciting customers. The data were passed on until autumn 2009 to some 4,000 self-employed commercial representatives of a subsidiary, to enable it to target products to these customers.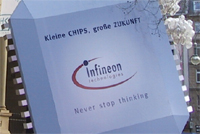 The EU Commission has imposed fines totalling €331 million on ten memory-chip firms, including Infineon, for illegal price agreements. The DAX member is the only European firm in the cartel, and will have to pay €56.7 million. The investigations by the Brussels authority cover the period from 1998 to 2002 in which the chipmakers, according to the Commission, made price and quantity agreements about DRAM memory chips. This was a "very grave infringement of market rules," said Competition Commissioner Joaquín Almunia on 19 May in Brussels. It had driven retail prices for computers upwards.
Polish competition authorities have served Praktiker Polska, the operative Polish subsidiary of the Praktiker Bau- und Heimwerkermärkte Holding group, with a fine notice in the amount of €9.4 million. Praktiker is accused of illegal price-fixing between 2000 and 2006. The German DIW retail chain is currently looking into whether it can seek legal remedies against the anti-trust fine and whether it needs to form appropriate reserves. According to a compulsory disclosure, this would be likely to influence the result for the second quarter.