Page 3 of 6
Buhlmann's Corner
Stumpf – Winterkorn – Ackermann, what do they all have in common?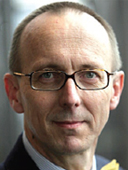 All three are CEOs and yardsticks for many (but not all) of their caste, see Samsung for example.
It is not chance that most of Humpty Dumpty's greatest falls are in the world of finance (see also Maurice R. Greenberg of the International, US-based Group AIG). There are also, however, many exceptions. Henning Schulte – Noelle resigned in time before Dresdner Bank, his acquisition, became a problem for him and him alone to solve. What does the demise of these white-collar étoiles have in common? What ought the Supervisory Boards be on the look out for, always provided that they are courageous enough and haven't been infected by the same strain of virus?
To my way of thinking, there is a single unifying factor which also happens to be part of the problem, and that is seniority. All those involved have been with the same company for years and worse still they sat in the top chair at the top table for years and years. When the Club of Florence gets together in 2017 to analyse "things that must never happen", people like John Stumpf (Wells Fargo), Martin Winterkorn (Volkswagen) and Josef Ackermann (Deutsche Bank) will, instead, be blithely repeating the words "things that could never happen".
On the wings of seniority they rise to dizzy altitudes, out of touch with the ground and their origins. Sweeping and soaring among the clouds is much more enjoyable than clambering out of the holes of day-to-day business and the humdrum of daily life. This much is nothing new but neither is it inevitable. Herbert Hainer (Adidas) came under sustained fire and notwithstanding certain issues of debatable corporate governance still managed to keep his feet on the ground.
It is undeniable that the onus is on the high-flyers, but by the same token, a measure of responsibility also lies with those who watch from the sidelines, or rather who don't watch, the Supervisory Boards who gladly pocket their fee instead of demanding to be kept abreast on matters within their bailiwick.
Non-knowledge is part of the system. And in this system, awareness means that part of the blame lies with the staff when they comply with the "turn a blind eye" approach of top managers instead of reporting them. Equally significant if not more so is the odious (but inevitable) comparison of their own existential issues against the annual fees which, in Deutsche Bank for example, run into three-figure millions. Today it is called whistle-blowing. Our elders called it moral fibre, In times gone by it was "doing the right thing". Whatever the name, the malaise is attributed to cultural shifts.
Where I come from, the net result is that each of the gentlemen mentioned in the title is flaunting a conflict of interests to the detriment (by definition) of third parties, mostly shareholders, and wreaks damage of an ecological (clients, environment) nature. When, as is the case of our three examples, best practice of corporate governance is mortified along with other structural problems the end of the story is nigh. And so it was with our trio.
John Stumpf lived an existence in the top tier board totally unchallenged. He spent decades in the company, and decades as its head, covered by Tim Sloan a colleague whose CV was identical to his own, and who eventually succeeded him. The run-down state of his office was proverbial – I couldn't say for sure because unlike the other two I never went to see him. One thing is certain. If I had, I would have searched for his real office. And I'm willing to bet that I would have found it!
For years Martin Winterkorn lived in the shadow cast by VW proprietor Ferdinand Piech who not only lost touch with reality but vanished into thin air. He deserves top marks for razor-sharp intuition though – his disappearing act took place only a few short weeks before the company's nosedive. Winterkorn's role has been akin to the Pope's namely the only way for peoples of the earth to communicate with a god in the heavens possessive of his family's partly state-owned company: Volkswagen.
Josef Ackermann put together a best practice initiative with his bare hands, the Global Executive Committee (GEC), that turned out to be a catastrophe for Deutsche Bank. Every transparent (or non transparent) step in decision making became unsubstantial, relegated to concealment behind the façade that the manag ement board provided with the self-castrating blessing of the Supervisory Board and the few remaining management board members. Only two of them, Ulrich Cartellieri and RainerNeske put up some kind of resistance and then they, too, left. Cartellieri was on the Supervisory Board from 1997 to 2004 and is credited with the famous remark "we always thought we would be able to keep it under control."Neske sat on the GEC from 2003 to 2009 and then on the management board before resigning after the debate on an issue that has still not been settled and on which everyone was pitted against him. The real issue seems to be how exactly does Deutsche Bank define the word "clear".
As regards the world's most liquid side issue, the various players are still far apart. One cashes in at his contract expiry date, another asks for a golden handshake, while the American relinquishes a quarter of his income of 35 years in banking by saying no to stock options.
This, too,is bizarre. Whether or not its CEO relinquishes or not, Wells Fargo has been served a fine of 185 million dollars, the same figure only 25 times lower than delivered on Siemens (whose fine includes accessory costs) Deutsche Bank (still running) is expected to be 50 times higher while Volkswagen can consider itself lucky if (for the few cars sold in the USA) it gets away with paying 100 times the amount of the American company. The sums don't add up and there's more than a whiff of bureaucrat revenge. And that's something that can't be allowed!