Page 6 of 12
People
Norbert Kickum has left Aareal Bank with effect from 31 October for personal reasons, by mutual agreement. He had been responsible for real-estate financing on international markets. Kickum's successor will shortly be announced by the real-estate financier. He was already on board, but there were still formalities to complete before the announcement.
BayWa's CFO Andres Helber moved onto the board on 15 November. The 44-year-old manager has headed the group's financial sector for ten years now. Frank Hurtmanns would be leaving the board on 31 December for personal reasons, stated the farm and construction products dealer on 10 November in Munich. The 55-year-old has been on the MDAX member's board since 1999.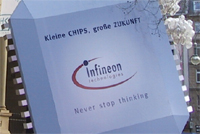 Dominik Asam (41) has been appointed new CFO of Infineon Technologies. The former Siemens manager starts at the recovered semiconductor producer on 1 January 2011. Just before that the supervisory board had officially nominated Wolfgang Mayrhuber to its chair, at its session on 22 November. Shareholders must still approve that at the February AGM. The outgoing Lufthansa CEO is already a supervisor at Munich Re, UBS and BMW. Current supervisory board chair Klaus Wucherer is thus drawing the consequences from the dispute with Hermes. The British pension fund failed in February in its attempt to let Willi Berchtold succeed Max Dietrich Kley instead of Wucherer.
At SINGULUS TECHNOLOGIES board member Anton Pawlakowitsch, responsible for the technology, research and development sectors, has left with immediate effect, stated the firm on 19 November in Kahl am Main. No new appointment has been made to the post. The specialist machine builder is thus reducing the number of board members to two. CEO Stefan Rinck will take over the sectors.

News Corp is making a change at the finance spot at Sky Deutschland. Steven Tomsic becomes new Chief Financial Officer, succeeding Pietro Maranzana, who becomes new deputy Chief Financial Officer at Sky Italy. Tomsic will resign his post as supervisory board member on 5 December. Maranzana will be familiarizing his successor with the work in the transitional period from 6 December through the end of January.